Searching for gift ideas for gardeners? You can find the perfect gift here! No matter your budget, we have gift ideas for you. From practical gifts that she'll be able to use to meaningful gifts that will touch her heart, our list will help you find a gift that she'll love to receive.
Practical Gardening Gifts Ideas
Seed Storage Tin
Help her keep her seeds organized with a fun seed storage tin! This cheery tin is spacious with enough room for a large number of seeds. There are dividers inside to help her stay organized. This is a great gift for any gardener!
Personalized Watering Can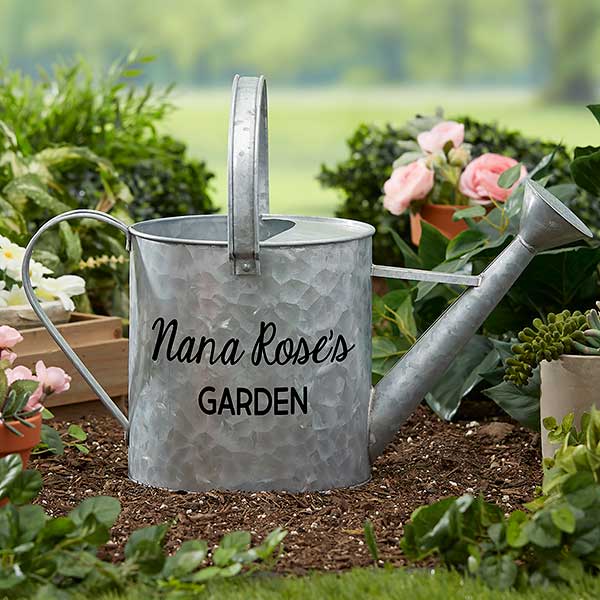 All gardeners need a watering can, so why not give her a personalized watering can this Christmas? Available in 15 different colors, this water can holds 144 ounces of water and weighs 1.3 pounds. You can personalize the text and choose the text color for a truly personalized gift that she's sure to cherish.
Love Grows Here Personalized Flower Holder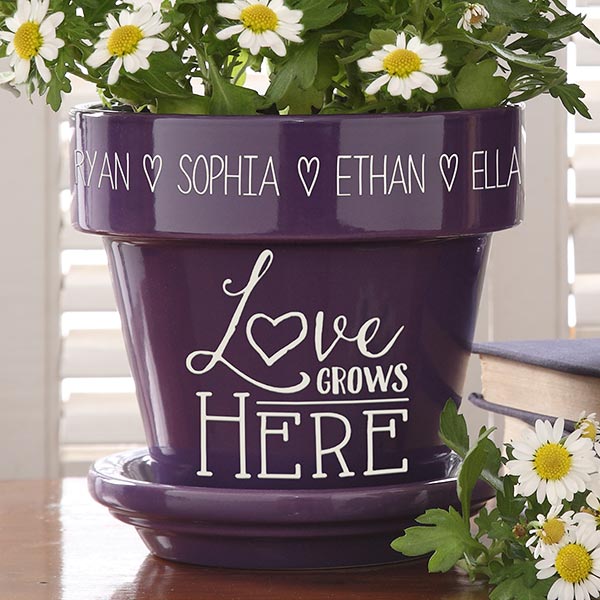 This Love Grows Here personalized flower pot is a wonderful gift for anybody who grows flowers! This durable flower pot is available in two colors and the top can be etched with the name of children or grandchildren. To make this an extra special gift, consider giving her some of her favorite flowers.
Related: 85th Birthday Gift Ideas for Her
Personalized Garden Apron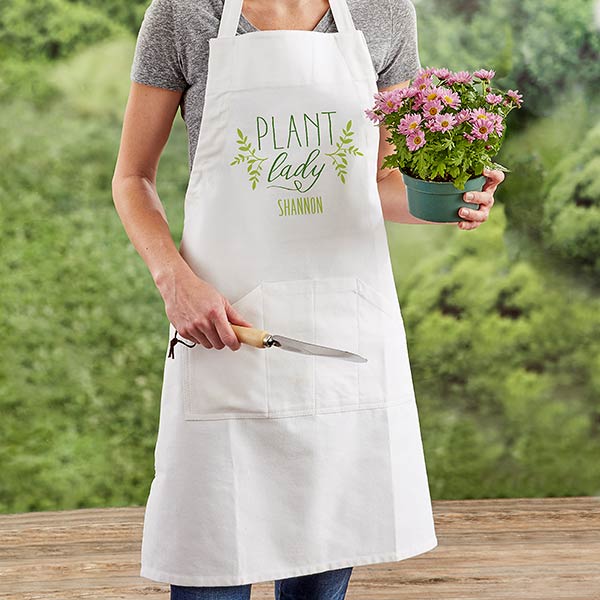 Help her keep clean with this fun Plant Lady personalized gardening apron! Add her name to this fun "Plant Lady" print for a personalized gift she'll love. It comes with a four-piece front pocket which is perfect for keeping seeds, tools, and more close by. There's an adjustable strap, so she can make it her own. It's great for any plant lady in your life!
Wellies
Wellies are a must-have in the garden and with good reason! These boots are great for trekking in the mud and working in the garden. They're good quality and available in a wide variety of colors. This is a thoughtful but practical gift.
Garden Gloves
Give her the gift of new gardening gloves! These fun floral gloves make an affordable yet practical gift. They're long enough to protect against any pesky thorns, yet breathable. There are several patterns and sizes to pick from, so you can choose the best gift for her.
Meaningful Gift Ideas for Gardeners
Willow Tree Angel of the Garden Figurine
A Willow Tree Angel of the Garden figurine is a meaningful gift that she's sure to appreciate. It's a hand-painted angel that includes a sweet sentiment on a card. It will look great displayed on a mantle or a shelf and is the perfect gift for any sweet gardener!
Pressed Flower Necklace
This sweet gift is perfect for any gardener who loves flowers! This pressed flower necklace is available with several different types of flowers pressed inside. This is a sweet, meaningful gift that she'll love!
Related: Birthstone Necklace for Grandmas
Personalized Mug
Looking for a personal but practical gift? This adorable personalized mug makes a wonderful gift! It's available in a variety of sizes and types of mugs (including a travel mug). You can put in two lines of text. Complete this gift by giving her some of her favorite coffee or tea. She'll love being able to sip from it before working in her garden!
Garden Journal
This is a great gift for all gardeners! This garden journal set includes a three-ring binder, a seed packet organizer, and a calendar, so it has everything a gardener needs to organize and track their harvest.
Window Herbs
This is a great gift for any gardener who also loves to cook! This nine set of window herbs allows her to grow nine different herbs inside and includes everything she needs to have herbs growing year around. There are reusable pots and bamboo plant labels, so she'll know exactly what she planted where.
Gifts for the Garden
Personalized Garden Stone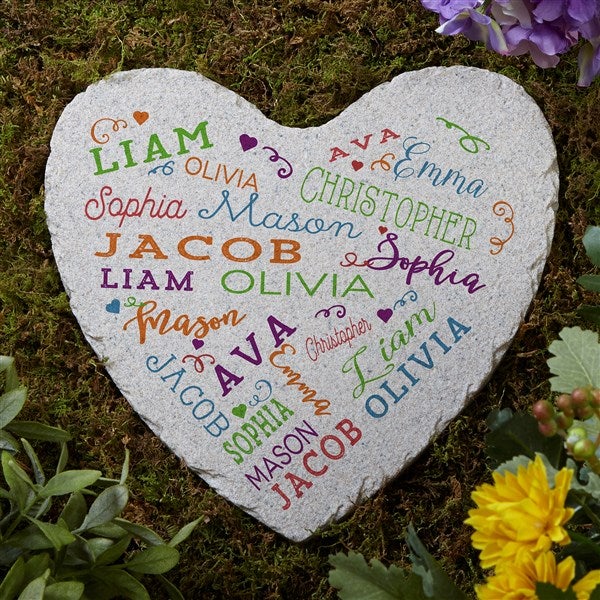 Give her garden a personalized touch with this Close to Her Heart personalized garden stone! With the ability to add up to twenty-one names, it's a perfect gift for any grandmother, mother, or teacher. Pick from eight different colors for a truly personalized gift that she'll love having in her garden!
Self-Watering Glass Globes
Make her life a little bit easier with these pretty self-watering glass globes! These colorful, handblown globes keep plants hydrated throughout the year, so they're great for when she's traveling or just to make her busy life a bit easier. It's efficient and thoughtful, so it's a wonderful gift!
Related: Cruise Gift Ideas for Her
Garden Figurines
Make her garden even more special with the gift of a garden figurine this Christmas. Amazon has a large collection of garden figurines and so do Wayfair and Lowes. With so many different figurines to pick from, you can find the perfect one for your favorite gardener! I love this solar-powered light turtle one – it's simply adorable!
Fire pit
Help her make her garden even more enjoyable with a propane fire pit! Available in two colors, it includes clear glass rocks and an exterior that hides the propane tank. There's also a lid that covers the bowl, so it converts to a small table. There's nothing like spending an evening in front of the fire pit in a beautiful garden!
Garden Lights
Spruce up her garden with some garden lights! There are so many to pick from, but solar lights that don't require anything to be plugged in are a great choice. She can place them throughout her garden or by a path to create an ambient garden that she'll love to spend time in.
Personalized Garden Sign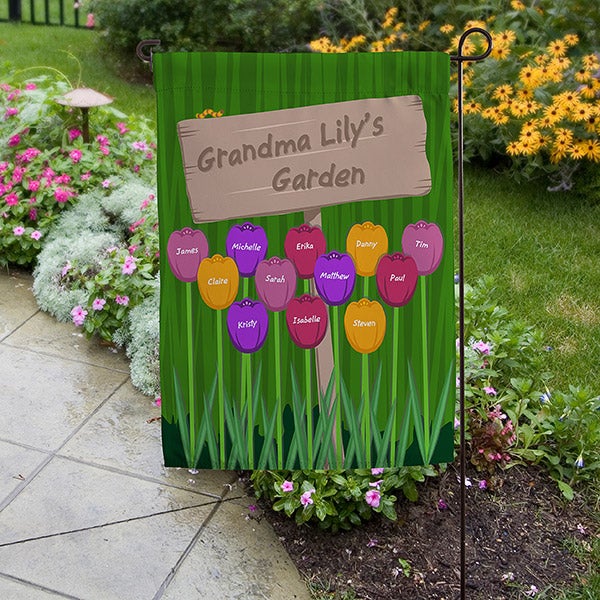 A personalized garden sign gives her a way to warmly welcome visitors to her garden! This one has the option to personalize two lines of text and the chance to add up to 27 names which will appear as little tulips in different colors on the sign. It's a unique and distinctive addition to her garden!
Garden Bench
If she has a large garden, there's nothing like a nice garden bench to help her enjoy her hard work. With so many designs to choose from in a variety of price ranges, you can find the perfect bench that she will enjoy sitting in.