Do you know someone who loves to cruise? Or maybe there's someone special in your life who is planning a cruise vacation in the future? Either way, give her a gift that she'll really appreciate this year. Our list of cruise gift ideas for her will help you find the perfect gift, no matter if she's a veteran cruiser or will be embarking on a cruise for the first time.
These gift ideas are perfect for Christmas, birthdays, retirement gifts, or any occasion in between. This list includes both practical and fun gifts, so you are sure to find the perfect gift for her.
Practical Cruise Gift Ideas
Cruise Luggage Tags
Any well-seasoned cruiser will appreciate these luggage tags! Protect the flimsy cruise-issued luggage tags with these luggage tag holders. They come in a pack of four and fit most cruise line tags. They're sturdy and reusable, but also affordable, so they make a great gift for any cruiser – seasoned or new. This gift will help them save time at check-in and help ensure their luggage gets to their cabin!
Magnetic Hooks
Tiny cruise cabins never seem to have enough storage. Help her solve this problem with these magnetic storage hooks. Since cruise cabins are metal, she can hang these clips on the walls of her cabin and have a place to store things. These clips come in various fun colors and you can pick from clips that hold 22 lbs, 35 lbs, or even 100 lbs. This is a practical gift that will make her cruise so much better.
Personalized Passport Holder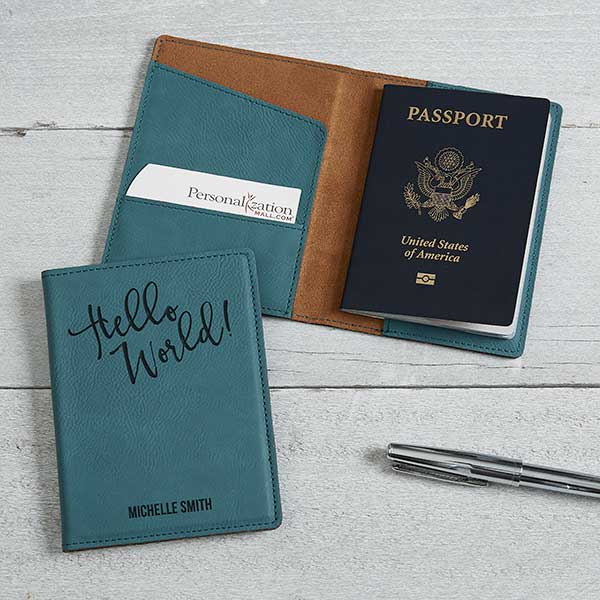 All travelers need a good passport holder to keep their passport safe while they travel. I love these personalized passport holders, which come in unique colors and have six different phrases you can pick from. You also can put their name on the passport holder, so it's truly a gift that's personalized for them. It also includes a little pocket within the holder for holding small documents while traveling.
Beach Towel Clip
If she likes to cruise to tropical locations, then she'll appreciate these beach towel clips. They come in a variety of fun shapes like flip flops, flamingos, tropical drinks, and more. Help her keep her towels secure to the chair with these fun clips. This is an affordable gift that she can use on both the cruise ship and the beach!
Key Card Lanyard
While on vacation, no one wants to carry around their purse or wallet. However, on a cruise, one needs to carry their room key, which is why a cruise key card lanyard is a perfect gift for any woman who loves to cruise. They come in a variety of colors and styles and will fit almost key cards on almost every cruise line. This is an affordable gift that will help make her vacation great!
Personalized Luggage Tags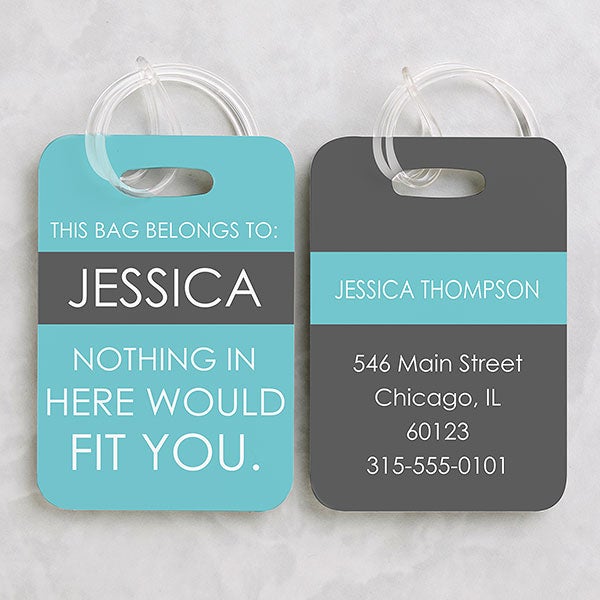 A luggage tag is a great gift for any traveler! I love this personalized luggage tag that includes the funny message "Nothing in here would fit you." There are three color combinations to pick from and a variety of funny messages. You add her name and her address so her luggage will stay safe on long flights or while in transit.
Luggage tags are affordable and a must-have for anyone who checks their bags, so this is a practical gift that she'll love.
Packing Cubes
Packing cubes are a life changer for any traveler! There are eight packing cubes in each set and all are different sizes. They include a shoe holder, a cube for underwear, a drawstring bag that's meant for dirty laundry, and three different sizes for all other clothes.
These packing cubes make traveling so much easier. She'll be amazed at all the items she can fit in the cubes!
They come in a variety of colors, so you can pick the one that she'll like the most.
Port Guide Books
If she's going on a cruise to a new destination or it's her first cruise, then a port guide book can be a great gift. These books are available as both paperbacks and Kindle versions and provide useful information that will help her get the most out of her cruise. They include maps, historical and cultural insights, and helpful suggestions.
Fun Cruise Gift Ideas
Personalized Tote Bag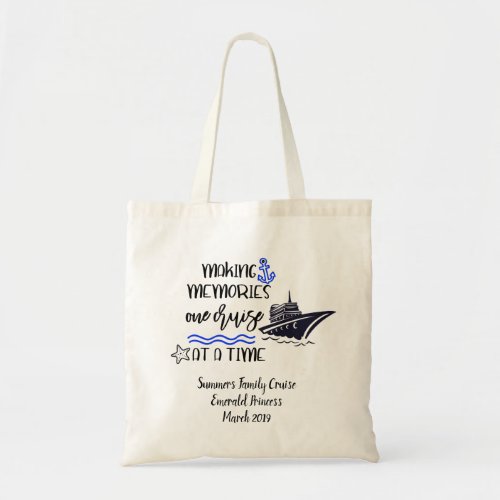 A personalized tote bag is perfect for shore excursions or carrying stuff around the ship! While there are many to pick from, I love this "Making memories one cruise at a time" tote that includes a picture of a ship and an anchor. You can personalize a message to say something that best fits her.
This tote bag is available in several sizes and styles, so you can pick the best style for her. This is a meaningful gift that she's sure to use!
Cruise Cabin Decorations
Make her cruise extra special with some fun cruise cabin decorations! These are the perfect gift if you're going on the cruise with her. You can decorate her cabin with cute decorations to make it a memorable cruise. This is an especially great present if it's a birthday cruise or a holiday cruise, but it will make any cruise fun.
If you're not going on the cruise, many cruise lines allow non-cruisers to buy decorations for passengers for a nice surprise. Just contact the cruise line and ask!
Selfie Stick
Help her preserve memories of her cruise with a selfie stick! This one is compatible with most major types of smartphones, including both iPhones and Androids. It folds down for easy storage and transport and is easy to operate. She can use it on excursions to take pictures of beautiful beaches or on the ship to fit all of her shipmates into a picture.
Personalized Flip Flops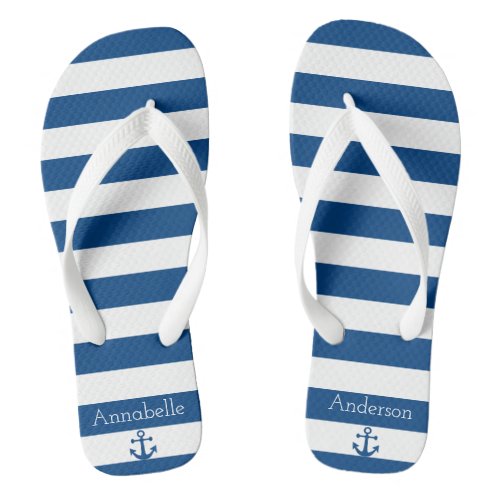 Anyone who is going on a cruise to a tropical place needs a good pair of beach shoes! Personalized sandals are a fun gift for any cruiser. These have a nautical theme with navy blue and white stripes and an anchor. You can personalize them with a name and choose the sole color. They are available in a wide variety of sizes, including both wide and slim. This is a gift that she'll remember for a long time to come.
Personalized Beach Towel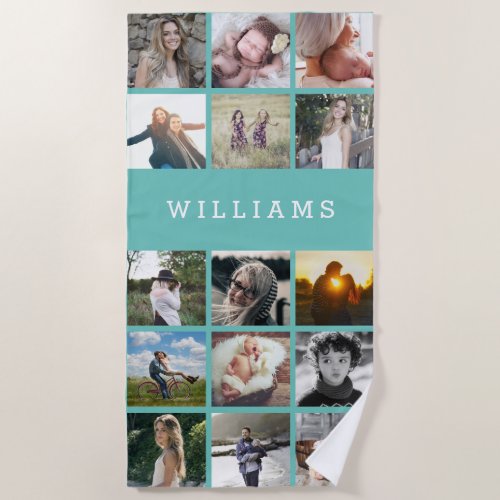 A personalized beach towel is a great, meaningful gift for any woman who spends her vacations on the beach or by the pool! This towel is available in a variety of colors and includes the option to add 15 personal photos. You can also personalize the name on the towel.
This is a great gift for a grandmother or mother with many family photos that she might want to remember while on vacation.
Cruise Ship Countdown Blocks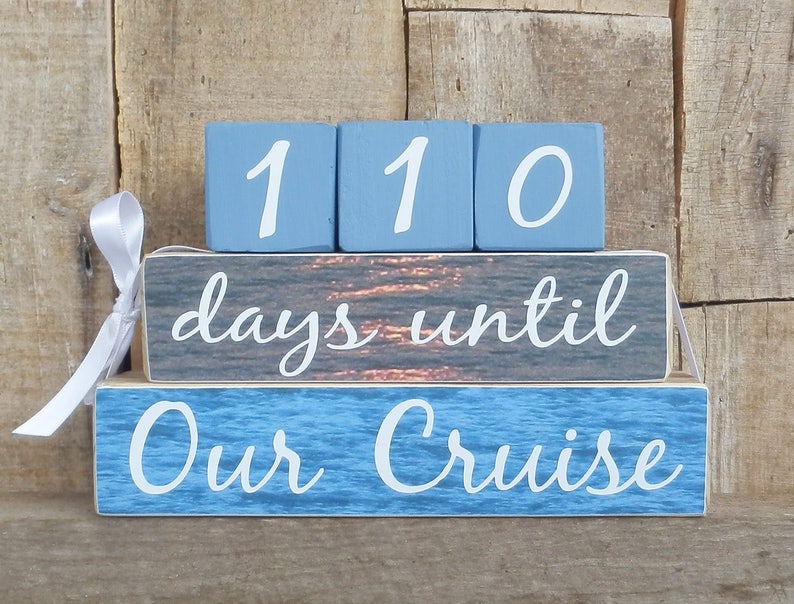 If you're shopping for someone who always has a cruise planned, consider gifting her these cruise ship countdown blocks. These are handmade, wooden blocks that count down the days or weeks until their next cruise. You can pick from a countdown as long as 110 weeks to as short as 43 days and pick the saying that it's counting down to. These gorgeous blocks make for a fun gift that she can use every time she plans a cruise!
Cruise Fund Jar
It can be hard to save enough money for that next cruise vacation. A cruise fund jar is a fun gift that helps her get to her vacation fund goal. This cruise fund jar is ceramic and is the perfect size for a countertop or shelf. To make the gift even sweeter, consider adding a bit of cash to the jar to get her started for saving for her next cruise!
Meaningful Cruise Gift Ideas
Trip Journal
If she has an upcoming cruise, help her remember it with the gift of a trip journal. This one is made of vegan leather and is small enough to fit in most backpacks. It invites her to write down the memorable parts of each day of her trip, so she can look back and reminisce in the future. This is a beautiful, thoughtful gift that's also affordable.
Photo Album
A photo album can be a meaningful gift that will remind her of her cruise. This one says "Our Adventure Book" and is available in several color options. The pages include transparent photo holders, so no glue is needed and it's easy to put the photos in place.
If you can, gather pictures of her trip and fill the album to make a complete gift that she'll be so pleased with. For an extra special gift, give her a photo album from the destination she visited.
Related: Mother in Law Christmas Gifts
Sea Glass Jewelry
Give her a meaningful reminder of her cruise with a beautiful sea glass necklace. This one is made in Hawaii and includes a silver chain and can be personalized with an initial if you choose. There is also a starfish pendant and a freshwater pearl attached. Altogether, it makes a beautiful necklace that is sure to remind her of happy times on the ocean.
Anchor Necklace
Remind her of her love of cruising with a thoughtful gift of a sterling silver anchor necklace. You can pick between a 16 or 18 inch chain length. There's also the option to have it gift-wrapped or placed in a nice jewelry box.
If a necklace isn't her style, then there's a large selection of nautical jewelry on both Amazon and Etsy.
Related: Sterling Silver Mother's Rings
Cruise Ship Christmas Ornament
A cruise ship Christmas ornament makes a wonderful Christmas gift for anyone who loves to cruise. This one is blown glass and is appropriate for any cruise line or destination. It comes ready to hang on a Christmas tree so it's a great easy gift.
For a more personalized gift, consider giving her a personalized cruise ship Christmas ornament.
Related: What to Get Grandma for Christmas