If you're shopping for a mother's necklace with kids' birthstones, you're in the right spot! Delight Mom this year with a lovely personalized necklace that features her children's shimmering birthstones.
Nothing is more heartfelt than a mom's love for her children. Celebrate that unique bond by creating a one-of-a-kind pendant just for her.
Stackable Birthstone Charm Necklace
Silver or Gold
This brilliant necklace dazzles with the colorful birthstone charms of all her loved ones!
Add up to 14 sparkling birthstone circle charms to create a one-of-a-kind keepsake that Mom will enjoy wearing for years to come.
Perfect birthday or Christmas gift for the Mom or Grandma with a growing family, as you can add additional birthstone charms later as her family grows.
Mother's Locket with Children's Birthstones
Silver or Rose Gold
Thrill Mom this year with this lovely heart-shaped Mother locket! It's available in a variety of colors and can be filled with up to 10 birthstones.
Sparkling birthstones peek through the delicate filigree on the heart shape.
It's a fabulous last-minute gift…and it's affordable but elegant!
Mother's Cross Necklace with Kids' Birthstones
Combine Mom's love for her family with her love for her faith and create a beautiful gift!
Add up to 6 genuine birthstones to the heart of this lovely heart and cross-shaped necklace.
The center of the sterling silver and gold plated necklace is graced with a genuine shimmering diamond.
The sparking pendant is engraved with the heartfelt message:
"Faith and Family are the center of a Mother's Heart"
Mother's Necklace with Children's Birthstones
Features Mom's Birthstone Also
This joyful mother's infinity necklace with kids' birthstones is a marvelous choice for the woman who prefers to wear gold jewelry.
Mom is represented by a large Swarovski crystal birthstone in the middle of the infinity charm.
Add up to 12 children's birthstones to represent her family.
Available in silver-platinum plated, rose gold, yellow gold, or white gold in your choice of 10k or 14k.
Inexpensive Mother's Necklace with Kids' Birthstones
Engravable Circle Charm with Dangling Birthstone Necklace
Under $100
This lovely sterling silver necklace will look fabulous on your Mom – and, at just under $100, it won't break your budget!
The polished circle charm is accented with up to 4 birthstones that dangle gracefully inside the circle.
The corresponding names are engraved on the outer edge of the charm.
Need a last-minute gift? This necklace is a perfect choice – it can ship in just 24 hours!
Simple Family Birthstone Necklace
Under $20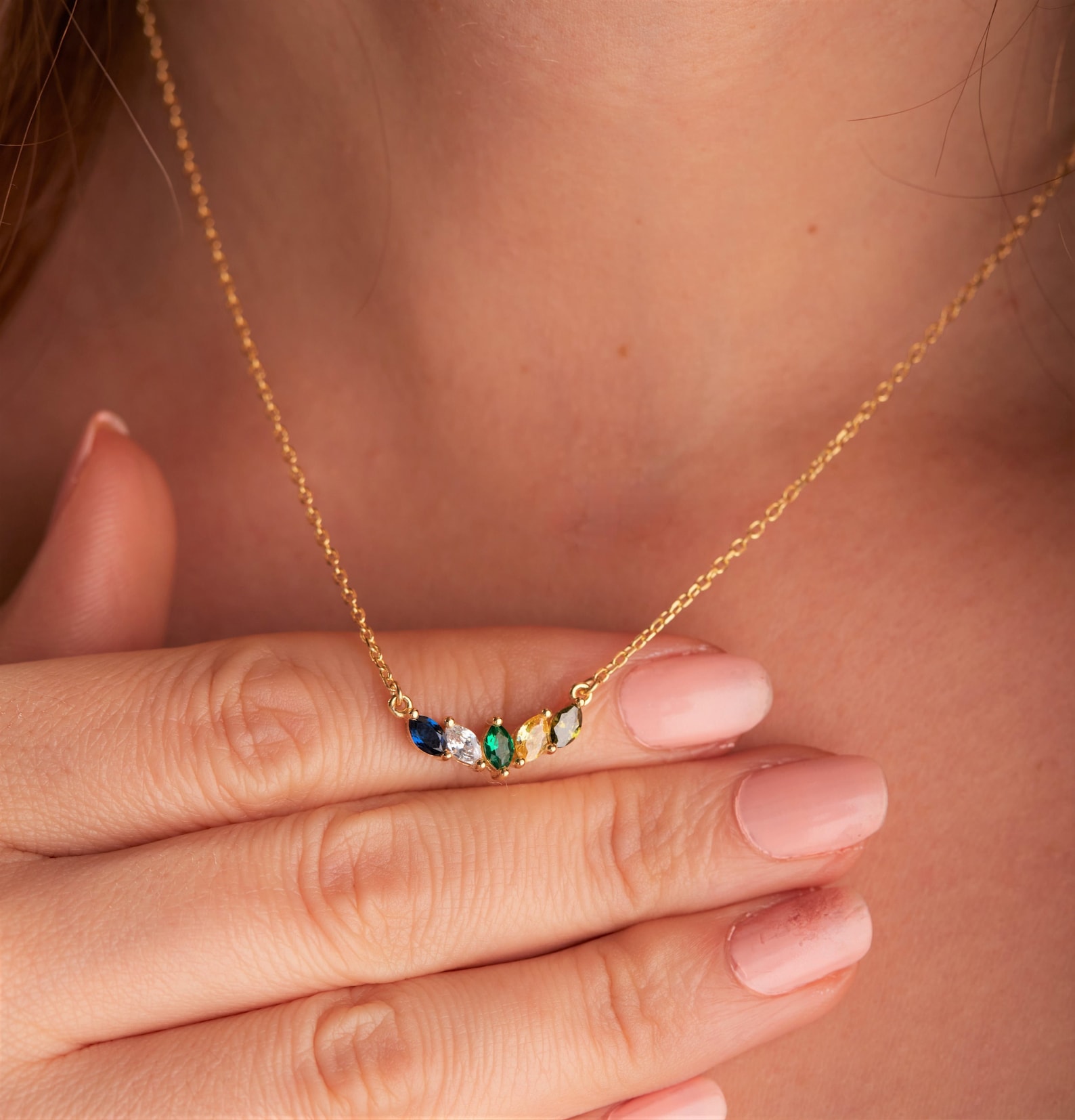 This affordable simple family birthstone necklace starts at under $20!
You can pick between a rose chain, a gold chain, or a silver chain. Each chain can have up to five birthstones of your choice added to it.
It's simple but elegant and makes a wonderful Christmas or birthday present.
Heart-Shaped Mother's Necklace with Children's Birthstones
This stunning heart-shaped necklace is sure to become Mom's favorite piece of jewelry.
The heart-shaped charm features Mom's sparkling birthstone at the center, surrounded by up to 5 children's birthstones.
Available in 9 different finishes, this necklace ships out quickly….perfect if you've waited until the last minute to shop!
Celtic Heart Mother's Birthstone Necklace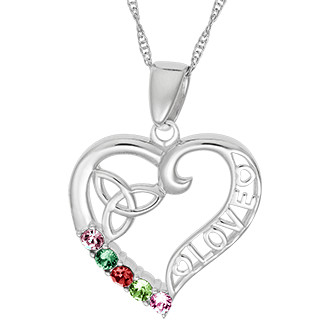 This wonderful piece of jewelry is sure to make your mom smile! The heart-shaped pendant features a Celtic heart on one side and the word "Love" on the other.
You can select up to five Austrian crystal birthstones that will brace the left side of the pendant. It's made of sterling silver and makes a meaningful gift that she'll love!
Birthstones and Their Meanings
You Might Also Like: