Graduating high school is a huge milestone in a girl's life and should be celebrated as such! Our list of high school graduation gifts for her will help you find the perfect high school graduation present, no matter who you're shopping for. From funny to meaningful, we hope you'll find the perfect gift on this list.
1. Personalized Compass Necklace
A Personalized Compass Necklace is thoughtful and affordable! It comes with a sweet message and is the perfect graduation gift.
2. One Line a Day Journal
With so many changes coming up, she'll want to remember this period of her life forever. Help her immortalize this special time in life with a One Line a Day Journal.
3. College Gear
College Gear makes a great gift for any college-bound girl. Get her some sweats, a shirt, or a sweatshirt so she'll be all ready for college games. Dick's Sporting Goods, Fanatics, and their college book store are all great places to shop.
4. Scratch Off Map
A great gift for anyone who will be traveling post-graduation! A scratch off world map allows her to keep track of all the places she's been in a fun way.
5. Keurig Machine
Coffee is necessary! A Keurig Machine makes a perfect graduation gift for anyone who is moving out or heading to college.
6. T-Shirt Quilt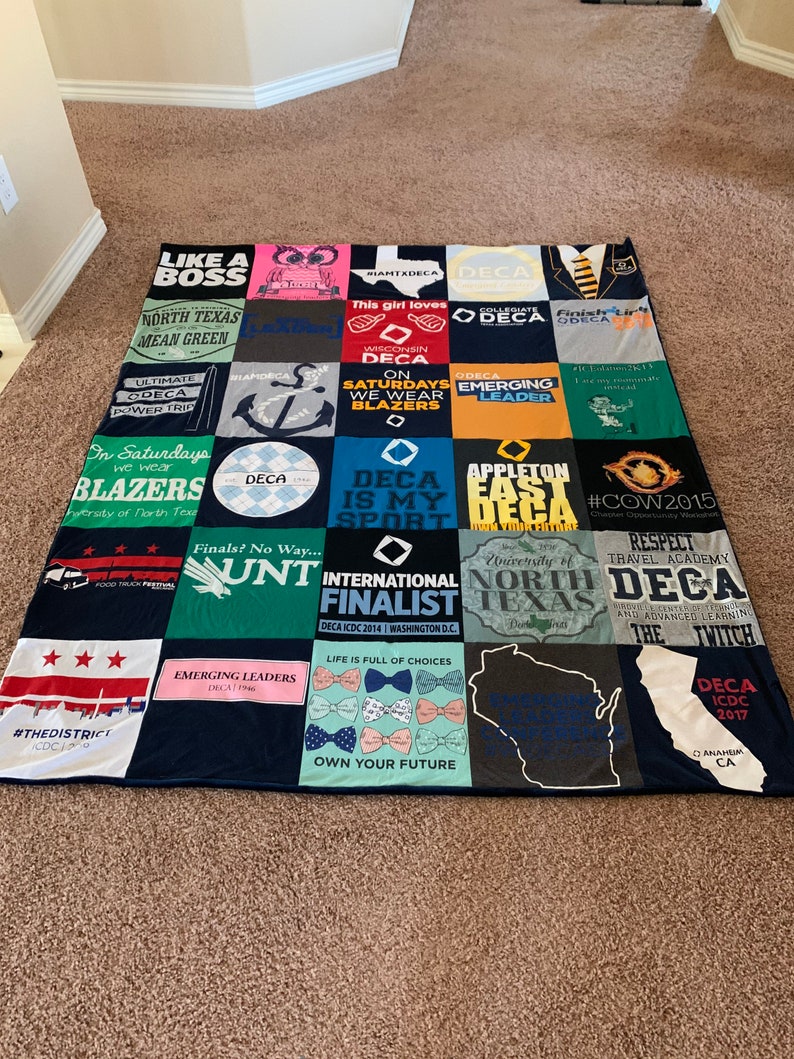 A t-shirt quilt is a classic graduation gift. If you're crafty, you can gather the t-shirts and make the quilt yourself, but there are also many people on sites like Etsy who are happy to help out.
7. Luggage
Whether she's traveling near or far, a luggage set is a great graduation present!
8. Personalized Tote Bag
For graduation, surprise her with a Personalized Tote Bag! Zazzle has many to pick from, but I love this Modern Monogram Tote Bag for a sophisticated look.
9. Laptop
A laptop is a must-have for any college-bound graduation! She can use it to take notes, complete assignments, write papers, and more. It's a wonderful, useful gift.
10. Oh, the Places You'll Go
Dr. Seuss' Oh, the Places You'll Go is a classic graduation gift. It's affordable and thoughtful.
11. Personalized Plush Robe
Comfortable and soft, a personalized plush robe makes a great graduation gift for her. You can get them at a variety of places, so you can find the perfect one just for her.
12. Noise Canceling Headphones
Help her get a bit of peace and quiet with noise canceling headphones. They're ideal for studying or just blocking out the sound of roommates.
13. Backpack
Upgrade her high school bag to a large backpack that she can fit all her college supplies in. There are tons to pick from, but we recommend a North Face or Jansport for their quality and variety of colors and styles.
14. Letters to the Graduate
Searching for a heartwarming or emotional gift? Letters to the Graduate provides you with unique prompts to fill in so that she knows how proud of her you are.
15. Lap Desk
A lap desk is a great way to get things done without being chained to a desk! She can use it for homework, painting her nails, eating, and more.
16. Packing Cubes
If she's moving out after graduation or going on a graduation trip, packing cubes makes a great gift! These can help her organize her clothes and fit more into her suitcase.
17. Bookstore Gift Card
Any college-bound girl is likely to need some expensive textbooks coming up! Help her offset the cost by giving her a gift card to her college book store. If you aren't sure which college she's headed to, an e-campus gift card can be a great compromise.
18. Graduation Class Ring
With a personalized engraving and two stones of your choosing, a graduation class ring is a wonderful graduation gift for her.
19. Personalized Laundry Bag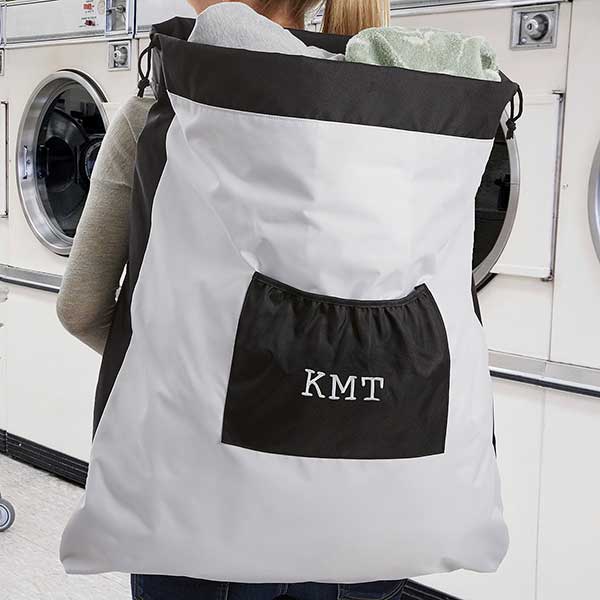 A laundry bag is a necessity for anyone who will be carrying their laundry down the hall! A personalized laundry bag makes for a great graduation present.
20. Bluetooth Speaker
No matter what they're doing post-graduation, a Bluetooth speaker keeps the party going and is a graduation gift that they're sure to use.
21. The Naked Roommate and 107 Other Issues You Might Run Into at College
The Naked Roommate and 107 Other Issues You Might Run Into at College is a must-have for any college-bound high school graduate.
22. Custom Hometown Leather Keychain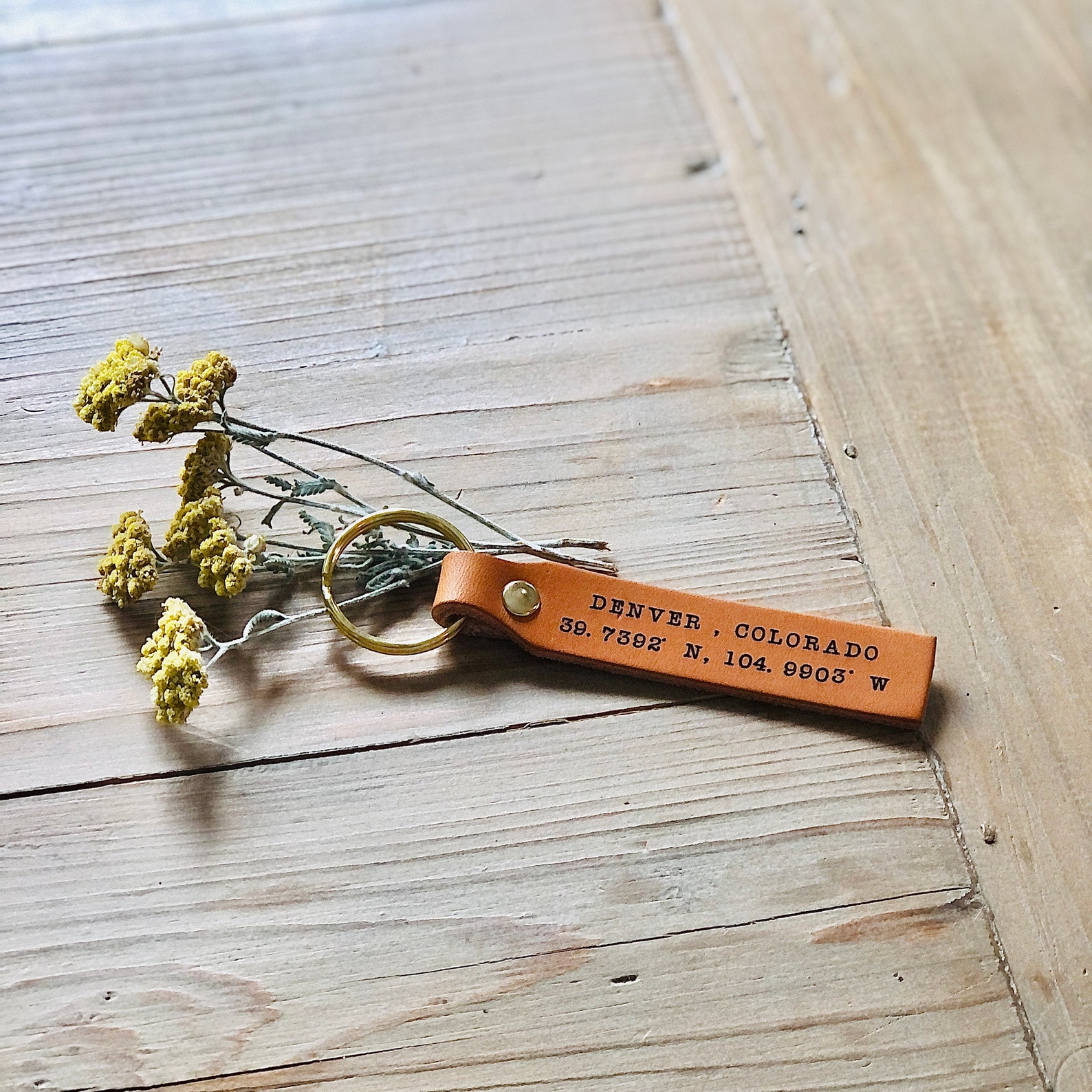 A thoughtful, unique gift for any woman moving away post-graduation! A custom leather keychain allows you to pick the city and coordinates so that she'll always carry a piece of home with her.
Related: Creative Ways to Give a Gift
23. Echo Dot
Perfect for dorm rooms and other small spaces, an Echo Dot lets the graduate take the power of Alexa with them to their post-high school home.
24. Off She Went to Change the World Bracelet
Searching for an affordable yet thoughtful gift? An Off She Went to Change the World bracelet is both inexpensive and meaningful.
25. College Bucket Gift Basket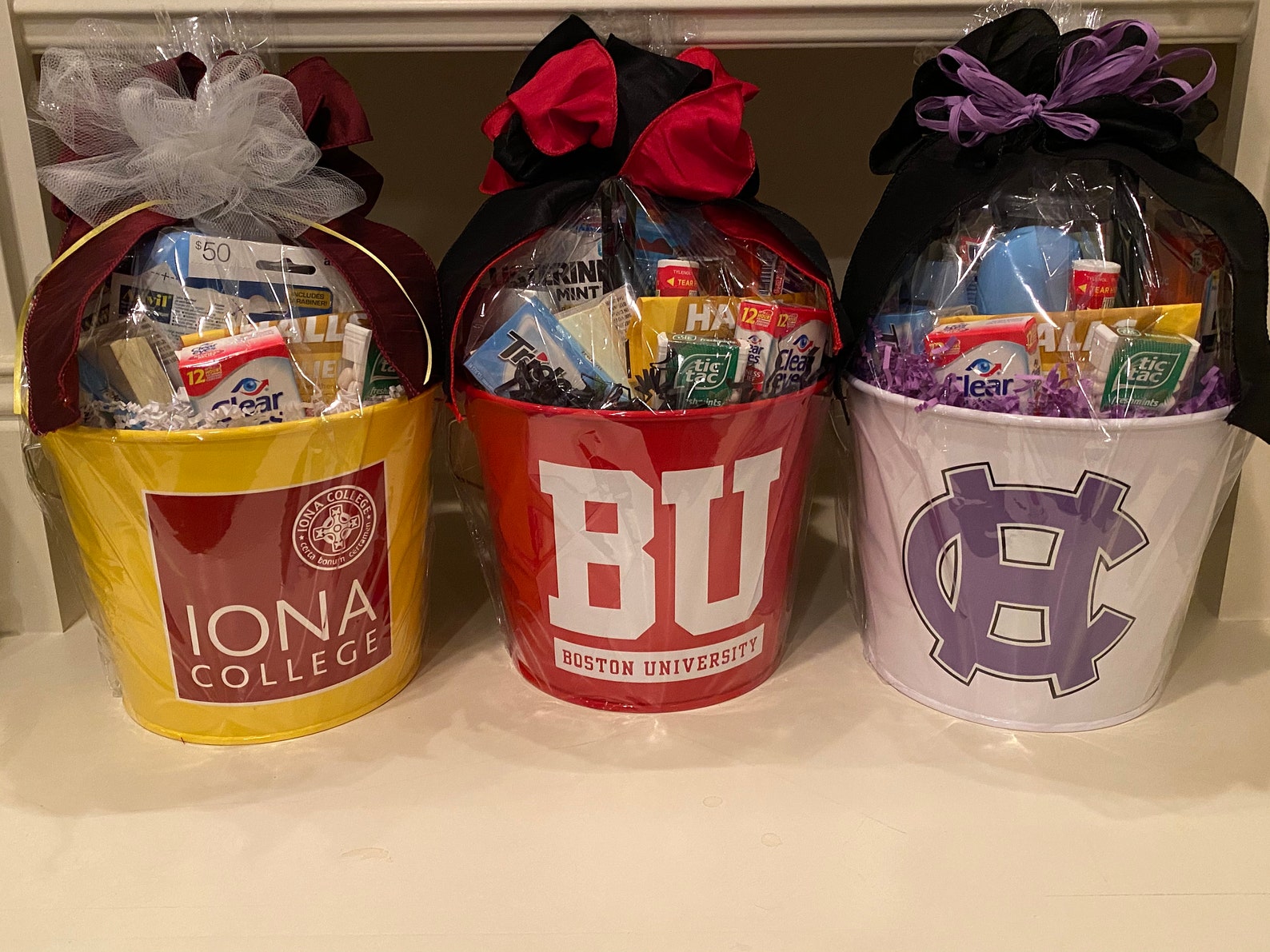 Need an easy but thoughtful gift? A college bucket gift basket is personalized to the graduates' college and stuffed full of goodies.
26. Bike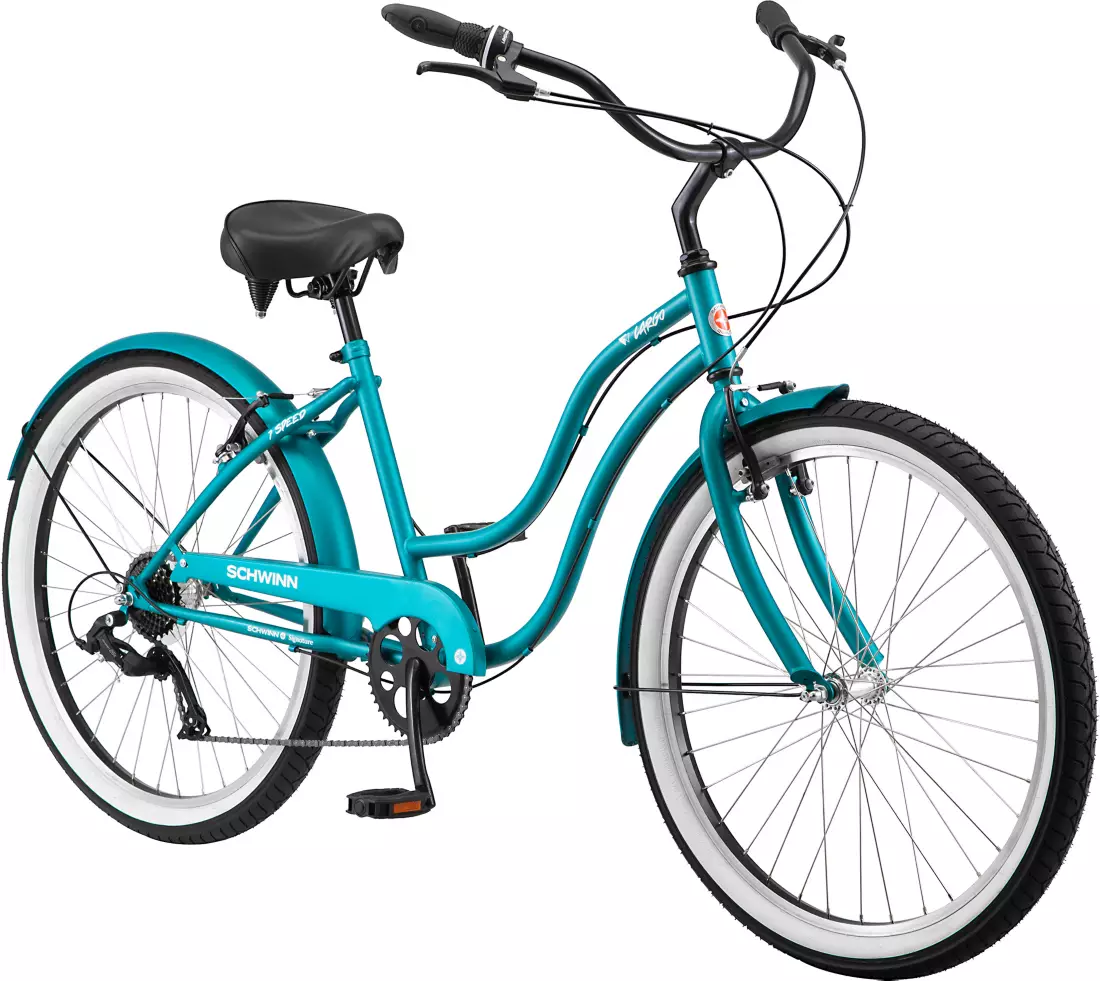 A bike can be a great way to get around and so it makes a great gift! There are many to choose from and many places to get one, but I recommend Dick's Sporting Goods or REI for nationwide retailers.
27. Weighted Blanket
A weighted blanket is the perfect gift for anyone who likes to relax and be comfy. These blankets help ease anxiety and will make getting into bed after a long day even better.
28. Personalized Luggage Tag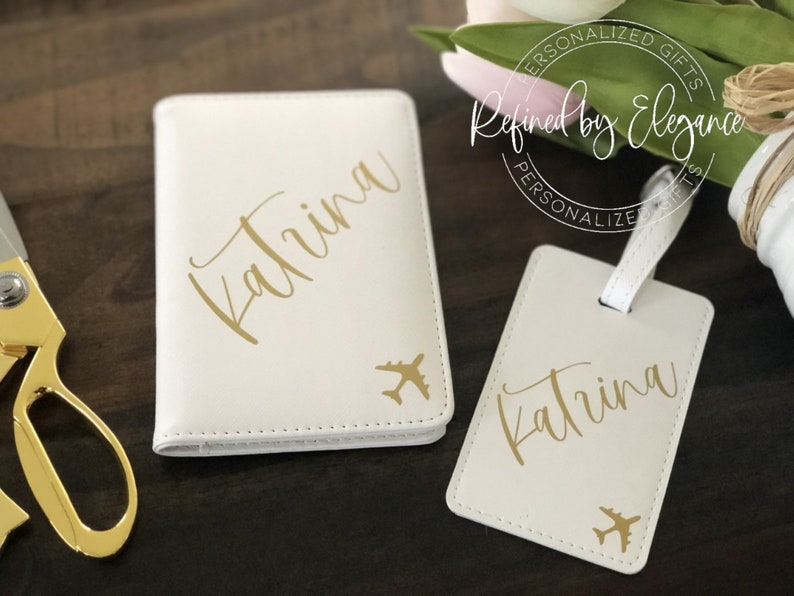 A matching personalized passport holder and luggage tag if she's planning to travel post graduation. Etsy has ton to pick from, but Amazon does, too if you need even more options.
29. Instant Camera
No matter what she's doing after graduation, she's sure to make memories she'll want to capture. An instant film camera is a wonderful gift that she's sure to use!
30. Cash or Giftcards: The Ultimate High School Graduation Gift for Her
Sometimes simple is better. Let her pick what she wants with cash or gift cards.